Investment Services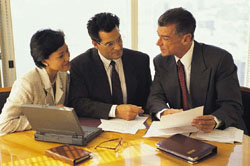 We offer both transaction-based accounts and fee-based programs. Our fee-based platform is constructed specifically to meet each client's financial objectives. We feel the fee-based platform provides our clients with professional, active management, while taking advantage of the opportunities the markets are providing at the time. Our goal is to maximize their portfolios risk-adjusted performance, while keeping expenses low. Clients who are not looking for active management and intend to trade infrequently can use a transaction-based brokerage account where a commission would be paid for each transaction.
We work with many client's IRAs. Whether you are an employee for a major corporation or are a self-employed small business owner, we have experience working with many different types of IRAs to fit the needs of our clients. Give us a call at 651-287-5476 to learn more on how we could help you meet your financial goals.
If you are looking to save for a child's education, we have access to a plethora of types of educational savings vehicles, such as 529 Plans, Educational Savings Accounts (ESA), and more. Give us a call at 651-287-5476 so that we can help guide you or your loved one's toward a successful educational experience.